First I HAVE to explain the sensational title of this post, that implies that you can discover (steal) Facebook's password else. Unfortunately it is what this post will explain, since they met certain criteria sejam.
The result you can find the password of Facebook, discover the sinh Gmail, the sinh Hotmail, or any other trading Online Services, It is conditional upon how you use Google Chrome and Mozilla Firefox browsers.
This knowledge can be used to good, for evil, but the purpose of this post is to alert users of these two browsers (Google Chrome e o Mozilla Firefox) and guide them to make your logins and passwords are not stolen by strangers, especially for those who use shared computers at Cyber ​​Cafes Internet Cafes or.
The main villain: functionality
save password
The major browsers currently on the market (Google Chrome, Mozilla Firefox, Safari, Internet Explorer and Opera) have a feature that asks you whether you want to automatically save your logins and passwords. When we enable this function, these browsers are automatically populate forms of logins sites, without our having to enter this information each time.
I confess to you that this functionality makes it much easier my life, since I have joined hundreds of sites on the Internet and, despite using a password manager portable, have them recorded in the browser also makes working. This behavior is adopted by most people who use the Internet, but ends up creating a security gap when it comes to managing personal passwords.
How to find out the password for Facebook
As was explained in the first paragraph, certain criteria must be met for you to discover a password. They are:
Have physical access to the computer of the person;
This person must be logged on computer;
It usually uses the Google Chrome browser or Mozilla Firefox for web browsing;
These criteria seem impossible to be met, If some busybody wanting to discover the Facebook password of a friend from high school, but in a scenario where a brother shares the computer with her sister, or that such a friend from high school access Facebook from a LAN House, or even college school, in such cases the criteria become feasible.
Google Chrome
The way Google Chrome manages passwords saved by it is at least questionable. Anyone can have access to all passwords saved in the browser, simply typing in your address bar the following command:
chrome://settings / passwords
This command opens a window listing all sites, logins and passwords stored by Google Chrome.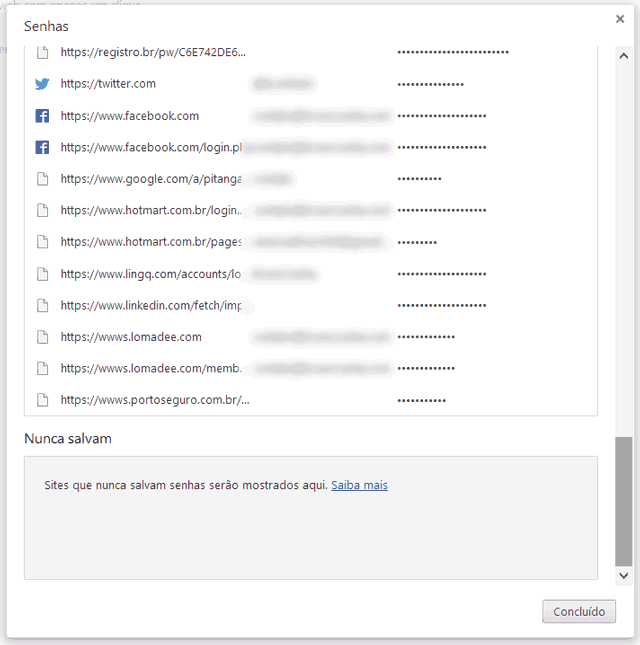 The explanation for this was given by Justin Schuh, one of the developers of Google Chrome, who told a forum (English) that this is not a problem but a feature. Summarizing what was spoken by Justin Schuh this forum, if a hacker has obtained access to the micro user, passing all authentication mechanisms and operating system security, Google Chrome will not be able to stop this hacker, if he wants to discover such logins and passwords.
Needless to mention that this response generated a great discussion in the right forum? Then, if I can "steal" the passwords of my sister, I can now consider myself a hacker? I do not think.
Mozilla Firefox
Mozilla Firefox also manages, by default, saved passwords in the same way that Google Chrome, storing logins and passwords unencrypted. To access this database, being open with Mozilla Firefox, follow the following steps:
Tighten the ALT the left side of the keyboard. Will display the browser menu;
Click Tools -> Options;
Select the tab Security;
Click the button Saved Passwords;
In the window that opened, click Show Passwords.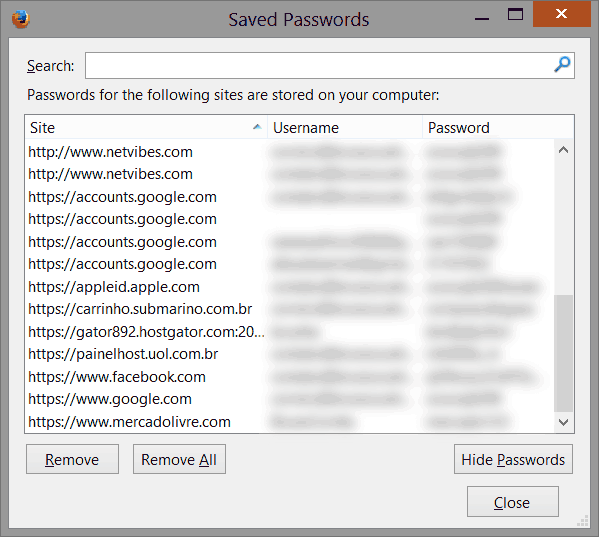 Never been easier to be a hacker is not even!? But for Mozilla Firefox there is at least a way to better protect this login information and password. I explain below how to protect these passwords.
Internet Explorer and Safari
These browsers have a higher level of protection, because you ask the user to enter their credential system so you can view the passwords.
But how to set the browser not to save the password?
If you use public areas Internet access, The first tip is not to enable the option to save password. If it is already enabled by default, once you finish using the micro, wipe your browsing history. For the case where the micro shares in a private, follow the steps below, according to the browser you are using.
Google Chrome: Disabling autosave password
Click the button customize and control Google Chrome. It is the button three parallel bars, overlapping, located below the button "X" close the window;

Select the Settings;
At the bar search settings, type Passwords and Forms;
Uncheck the check box option Offer to save passwords when I get on the web.
Do not forget to clear history Browser, to force the removal of passwords already stored in Google Chrome.
Mozilla Firefox: Protecting your passwords
Is there a way to put a master password to be able to display this information in saved logins and passwords for Mozilla Firefox. Thus, even if you no longer recorded in the browser, only you, who owns the master password, may have access to them. See below how to enable this functionality:
Tighten theALT the left side of the keyboard. Will display the browser menu;
ClickTools -> Options;
Select the tabSecurity;
AreaPasswords, chooseUse master password.
A window will open asking you to give this master password.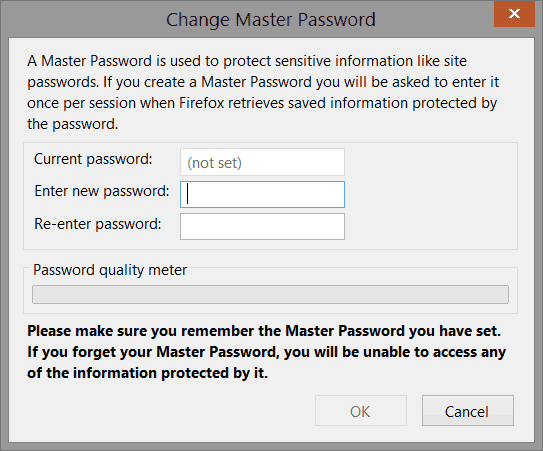 Now, every time you enter a page form that Mozilla Firefox knows that a password has recorded, it will display a window asking you to enter the master password registered.

Now, when trying to access the Tools area -> Options -> Safety -> Saved Passwords, you can still see the login information of all sites, and the window asking you to inform the master password will only appear if you click the Show Passwords.
I'm still with the view that, same as Firefox allow the registration of a master password, impossible to get access passwords for sites, still continue with the permission to see the information of logins. Can not help a mere mortal to discover the Facebook password of another person, but we can consider as a security flaw.
Conclusion
This post ended up being huge, but the size of the text was necessary to explain a possible security breach and show how users of these browsers podrão better protect themselves.
I hope you enjoyed the tip and, please, do not use it to find out the Facebook password ehn sister!! If you got any questions, if you did not like the post, or want to comment on this behavior Chrome and Mozilla, write to me just below.