Who ever deleted a file by accident that the first shoot HD! Recover deleted files should be taught from kindergarten! Many people have also gone through the situation clear, unconsciously, photos from digital camera, located on the memory card. There also those who lend their pen drivers for friends, that end up deleting files that should not.
The functionality of the trash, present in virtually all operating systems, is a great ally to save us in some of these cases, but, if deletarmos using the command SHIFT DELETE, the file does not go to the recycle bin and is "excluded" directly.
There are many companies that do this type of data recovery service, but I will teach, Here in this post, a how to recover accidentally deleted files without paying anything for it. This is a post type "do it yourself" I hope you help rescue your photos, music files, video, Word documents, Excel, Power Point, etc.. on your PC. Before starting to hint, explain why it is possible to recover files "excluded", but, if you want to skip directly to step-by-step, Then we go to the explanation.
Why is it possible to recover deleted files?
First of all, we need to understand that a deleted file does not disappear immediately from the hard drive; and I'm not talking about the Trash. A file is information that is recorded in a particular location in HD, memory card or a USB memory stick. Each of these units has a storage area index, that stores the location and status of each file if it is "active" or "excluded".
Imagine a file called "photo.jpg" is stored in blocks 1 a 10, track 2, sector 4, a HD. This HD has an area index that stores the file name, your status (active / deleted) and location of this file. When you delete elements that file, we are simply updating the index information of HD, saying that the file "photo.jpg" assumed the status of "excluded". So, the system will understand that the blocks 1 a 10, track 2, sector 4 now be available to receive new information. (See this post to learn more about operation of a Hard Drive).
Now we understand that the file, same "excluded", remains recorded in HD and just need the right program to access it, since the OS starts to ignore it. The program that I recommend to recover these files is Recuva from Piriform company. Below explain how to download, install and run this program, but first I have one more question to clarify. Follows:
Why can not recover the deleted file?
As explained earlier, when the file is marked as "excluded" the index of the storage unit, another file can be saved to the location you just become vacant. If this happens, you definitely lose the file you want to recover, because, in which case, the old information, located at that address, has been replaced by another, another file.
Therefore, here's the trick most precious: if you accidentally deleted a file, not continue recording files in that storage unit (HD, memory stick, pen drive, etc.). So you increase your chances of getting recover them.
Let us now through a step-by-step how to recover deleted files. Follows:
How to recover deleted files: Step-by-step
Installing the program Recuva
Go to download page to download the version Recuva – Portable. If the download does not start automatically, click "Start Download";
Save the file somewhere on your computer. It may be even a pen drive, because this version runs without requiring installation;
Unzip the file you just downloaded somewhere, may be in the same pen drive;
Now run the program Recuva.exe.
Configuring the program Recuva
When running the program Recuva, logo screen will appear Wizard. Check the "Do not show this Wizard on startup" or, se já estiver na versão em Português, "Não mostrar este Assistente na inicialização" e clique em "Cancel" or "Cancelar";
Then, click "Options…" or "Options…";
Na aba "General", mude o idioma para o de sua preferência. Ele tem a opção "Português do Brasil", que é a que vou selecionar para esse passo-a-passo.
Vá na aba "Ações" e marque as seguintes opções:
– Show hidden files found in directories of the system;
– Show files removed safely;
– Check files not removed (para recuperado de discos corrompidos ou reformatados).
OBS: Do not check the option right now "Verification Deep", pois Aumente muito tempo of de Pesquisa e não pode ser necessária couple having seu caso.
Clique em OK.
Recuperando of arquivo deletado
In the main window of the program Recuva, select where you want to search by file "deleted".
At this time the program starts to scour the storage unit, through the stages below. Depending on the size of the unit, these phases may take a while:
– 1: Checking device for files removed;
– 2: Analyzing the impact of the damage;

– 3: Analyzing archive contents;

After completion of the scan, such a screen will be displayed, listing all files that the software could find:
Note that some files are with a green ball before the name. Others are balls with oranges and still others with red balls. This indication shows that color:
Green: Potential File recovery;
Orange: partially corrupted files. Recovery unlikely;
Red: totally corrupted files. Unable to recover.
Seek now the files you want to recover. Select them and click "Recover…" located in the lower right corner of the window.
Tip to browse the files in the program Recuva
This program allows you to filter the types of files you want to recover. The available options are:
Images;
Music;
Documents;
Videos;
Compressed; and
Emails;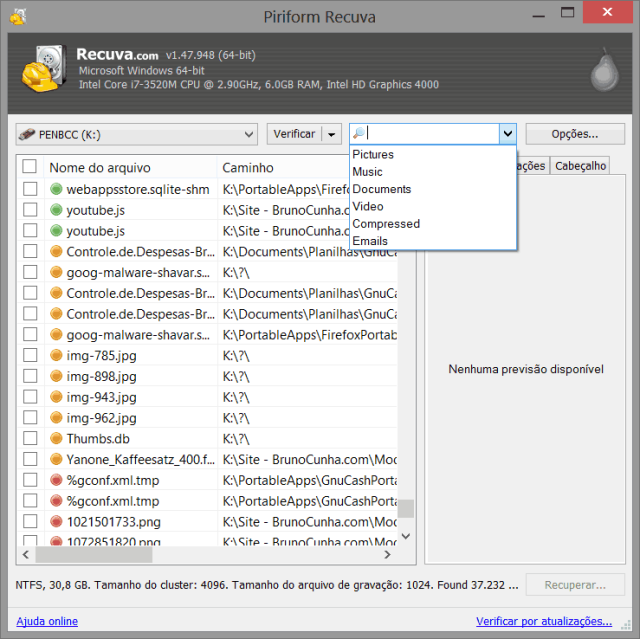 Besides these filter options, You can also set which file types you want to filter, eg: *.txt; or photo *. *. There goes your need.
If even after all this step-by-step you still failed to recover deleted files, then follow the last tip:
Performing a scan deeper
There are some cases that the normal search does not find all files. If this happens to you, then try the last step: Log in "Options -> Ações" and select the alternative "Verification deep".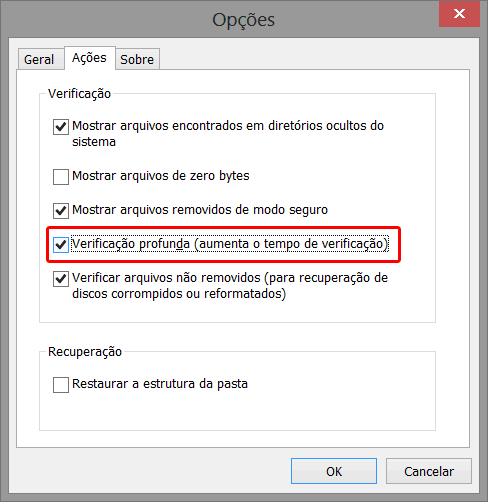 Rerun a scan in storage unit. Remember now that the scan time is much greater, may take hours.
Final Thoughts
If you read the entire step-by-step, must have understood that recover files in HD, Or Pen Drivers Memory Cards is not a very difficult task. It also alerts us to an issue very important safety. If you have sensitive data stored somewhere, and thinks just delete them with the chance to find them, you're wrong. The best way to resolve this issue is completely resetting the unit, but that's for another post chat.
And one more warning. If after following all the steps, including running a deep scan, you can not recover the files, is a sign that they were corrupt and even, unfortunately, lost them forever…
So that's. I hope you enjoyed the post and that has helped you save that picture, video or document super important that you had accidentally deleted.