If you came to this post is a sign that you are overwhelmed by the size of the folder "winsxs" in your installation directory for Windows. This folder is really great, but it has an explanation for this. Article in EnglishThe Secret Of Windows 7 WinSxS Folder the author explains why this folder is very large and, in the course of time, always increases more.
Summarizing, a pasta "winsxs" is an abbreviation for Windows Side By Side, translating something like that is Windows Lado-a-Lado, which is a great name for that function. This folder stores multiple versions of multiple files, just to maintain compatibility between different programs.
Imagine an X program, that depends on a specific version of a DLL and another program Y, it depends on the same DLL, only in a newer version. Answering the two programs? Simple, storing the two versions of the same DLL. That's how this folder works and that is why it grows in size with time.
But there is a way to reduce the size of winsxs folder. I got this tip in another post, also in English, TitleHow to cleanup the winsxs folder on Windows 7 (SP1)/ Windows 2008 / Windows 2008 R2 (SP1).
First of all, Start the command prompt as administrator. Go to start menu -> in the search bar, digite CMD -> Right click on the result "cmd.exe" -> and then click "Run as Administrator".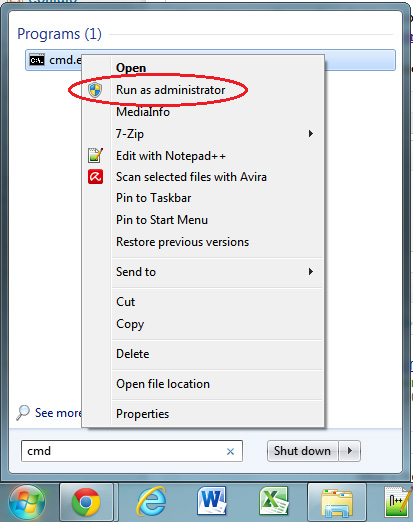 At the prompt screen, type the following command and press "enter":
dism /online /cleanup-image /spsuperseded
Wait for a while because it takes. The screen below should appear when it is finished.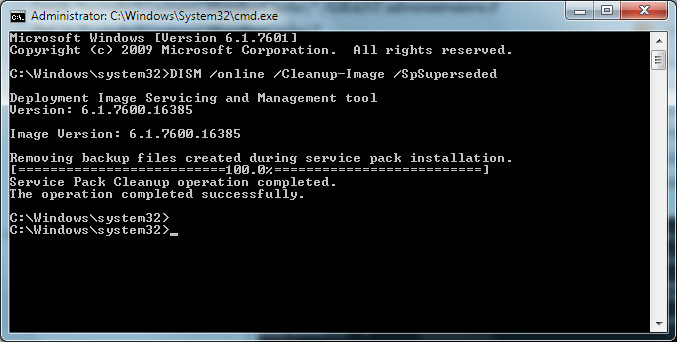 After this step has been completed, also run the commands below:
Takeown /f %windir%\winsxs\ManifestCache\*
Icacls %windir%\winsxs\ManifestCache\* /GRANT administrators:F
Del /q %windir%\winsxs\ManifestCache\*
Soon, now you can see that the size of the winsxs folder was reduced.
In my case, as you may notice in the pictures below, my folder had a reduction 33,6%, falling from 12.5 GB to 8.3 GB, a gain of 4.2 GB of disk space!! Wow!